There is a strong evidence base that suggests language skills are foundational to the integration of refugee families; but there is consistent and credible evidence that barriers exist concerning availability, accessibility and quality of language tuition. By utilising ethnography and co-design, the project aimed to build recommendations as to what would constitute an effective language offer for refugees, using refugees' own experiences as a basis for change.
​​​​​​​
Five Ethnographers; Alex Mathers, Kyna Gourley, Solene Heinzl, Raissa Botterman and Pervez Khan Two Designers; Kate Langham, and myself
Design and facilitate a co-design activity with refugees who speak little English, providing them the opportunity to discuss areas of their lives which are difficult and highlight their ideas for improvements.
A co-design tool kit which uses participatory methods to build a picture of a refugees English language learning journey. The kit consisted of visual tools, that are not language dependent, for refugees to map an average day. The map explores how refugees journey from home, return home and carry out their daily routines with discussion around challenge points.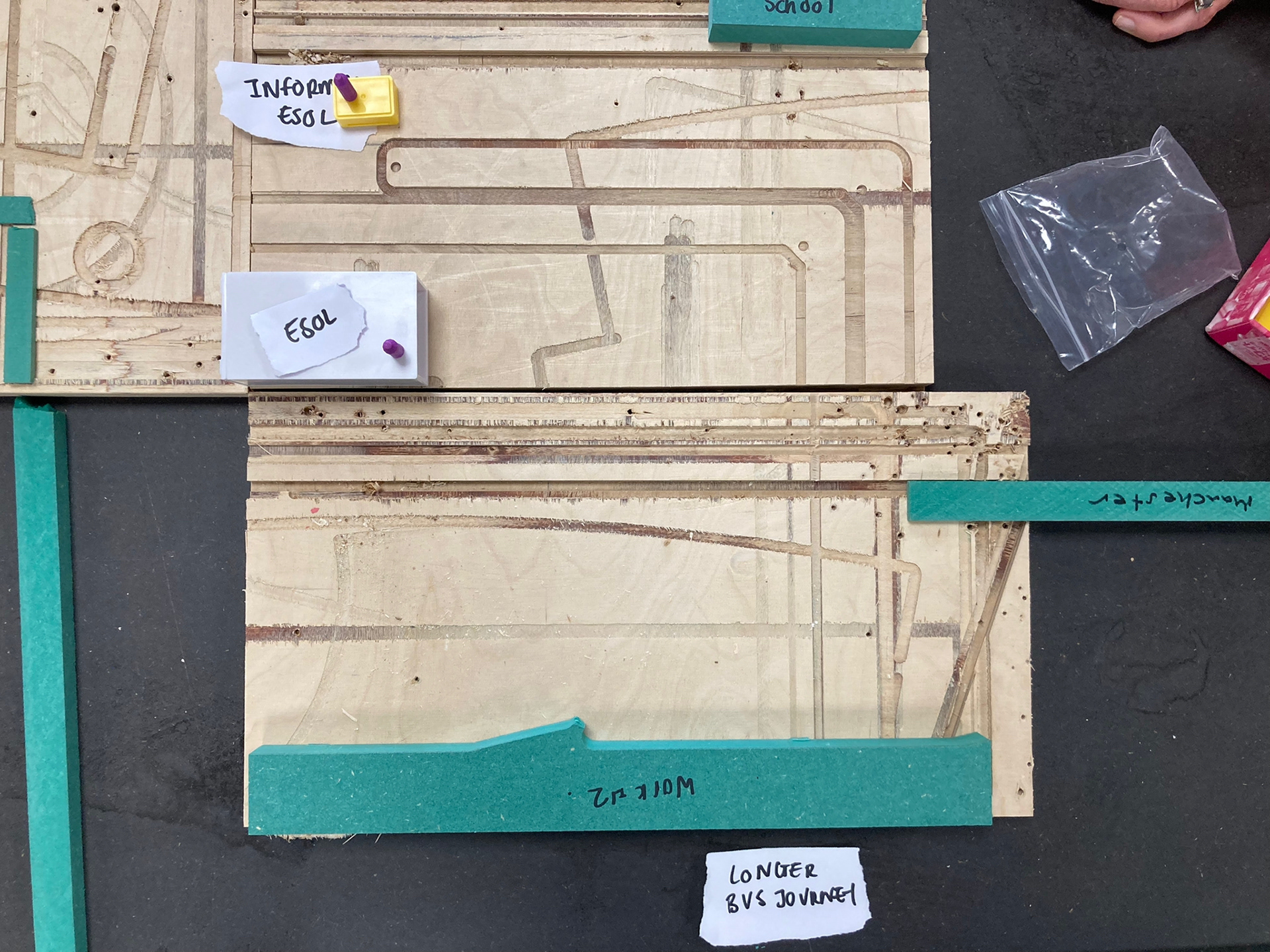 Above show the process of roleplaying and identifying the tools needed. We used found materials to prototype the functionality of the kit.
Research and 
Experimentation; 
To inform our research, the Policy Lab team engaged with experts from a range of fields to explore the known challenges and opportunities faced by refugees.
Volunteers, English language teachers, PhD students and Policymakers were some of the people who were involved in this initial research however the interviews were often part of an ongoing conversation. The interviews took place online, as part of larger workshops and one-on-one and in-person as case studies.
"Maps are an effective way of presenting local information - problems and opportunities - in a clear, visual way."
Our understanding of the refugee landscape informed the co-design activity as we incorporated visual tools which encouraged refugees to discuss the known challenges as well as emerging ones.
The Reflect for ESOL resource pack laid the foundations for the co-design tool kit. Underpinning the Reflect for ESOL approach are visualisation tools such as rivers, trees and maps that enable participants to communicate their knowledge, experience and feelings without being restricted by literacy and language barriers.
The locality of a refugee is known to impact their ability to access English language learning as well as other services. Therefore the co-design naturally used maps as a visualisation tool. To expand upon the Reflect for ESOL foundations, we roleplayed how a family might navigate their local area. Through this process, we developed other visual tools to provide the opportunity to discuss what transport a refugee might use to travel around their area, where they visited and how easy/difficult the experience was.
​​​​​​​
Image shows the co-design tool kit contained in a box.
Developing The 
Co-Design Tool Kit
The co-design tool kit contained a variety of objects which enable learners to describe their local area and how they navigate it.
​​​​​​​
A4 urban and rural printed maps, to build an area,
wooden discs, to represent people,
landmark blocks, to act as a point of reference,
location blocks, for participants to describe where they visit 
in a day,
learning speech bubbles, to indicate where they are learning/
practising English,
3D printed modes of transportation, to demonstrate how they 
travel around their area,
level of difficulty coloured dots, to indicate how easy or 
challenging they find a situation,
idea stars, to indicate opportunities for improvement,
a booklet, a leave behind 'thank you' gift.
​​​​​​​
Images of the co-design tool kit in use
Facilitating The 
Co-Design Activity
Firstly, participants were provided with a selection of A4 maps which represented urban areas (illustrated using geometric shapes to represent buildings and roads) as well as rural areas (illustrated using organic shapes to represent the countryside). By mixing and matching the maps, participants constructed their local area providing the Policy Lab team with an insight into how the participant experienced their area. For example, if the area was dispersed the participant might use more maps.
Next, participants were invited to place landmark and location blocks. Both kinds of blocks were identifiable by their illustrations to allow refugees autonomy over how they interacted with them. For example, while on the fieldwork with participants who had low levels of English and were not literate in their first language, they were quickly able to pick out 'home' and 'hospital' and independently position them on their map.
Participants were invited to label members of their family on wooden discs, for example; mother, father, son, daughter, grandmother etc. The discs were moved around the map to demonstrate a typical day to understand how this may impact the participant and their ability to access English language learning.
​​​​​​​
Once these elements were present on the map, the facilitator 
would inquire about how the participant started their day and what locations they travel to. The tool kit contained 3D printed transport pieces which visualised taking the bus, car, train, tram, riding a bike and walking. When appropriate, the mode of transport would be added to the map and the facilitator would enquire into how accessible travelling is to them.
Throughout the map, participants would identify where and when they were learning and practising English. A wooden speech bubble would be placed in such instances.
As participants explained their journey, the facilitator would ask them to discuss barriers and challenges to accessing English language learning. When a refugee spoke about their experience
a dot sticker would be placed on the map to show the level of difficulty, for example, a red dot illustrated an aspect that was challenging while a green dot illustrated an aspect that was
easy and accessible. Similarly, a yellow star would be placed if a participant had an idea of how to improve their experience. Making the most of colour connotations enabled the participant to express their experience of different situations without a second thought.​​​​​​​
Ahead of the fieldwork, the co-design tool kit was tested with some former refugees. The kit was introduced and facilitated as intended with participants to ensure we could receive feedback on the kit but also on the language we were using in facilitation too.
The feedback from the user testing impacted the final design of the activity. We expanded the location blocks to include a gym 
and designed a 'thank you' booklet that allowed us to give back to the participants, to thank them for their time with us. The booklet also provided space to contextualise the project in a format which supported the participant's reading skills.
​​​​​​​
The co-design tool kit in testing
During the fieldwork, the team spent five hours with participants in their homes and surrounding areas to conduct the filmed ethnography and co-design. To ensure the ethnography and co-design worked together to tell the participant's story, we made sure to facilitate the co-design activity at the right time of the day.
The Policy Lab team visited refugees across the UK- all with unique circumstances. The participants had varying levels of English and extremely different experiences of being able to access English language learning.
​​​​​​​
Outputs of the co-design activity with participants
The insights gained through the co-design activity, filmed ethnography and expert interviews led to us creating design concepts, for policymakers to consider a more ideal system for refugees learning English.
"We've never meet with [Refugees] to get their views and so they have not had the opportunity to be heard - in a sensitive, fun and relaxed way"
A volunteer who works with the participant and their family