As part of a strategy to incorporate future innovation methodologies in government, the Policy Lab team trialled serious gaming in order to

co-design

the upcoming Sea Bass Fisheries Management Plan for 2023. The serious games invited representatives from stakeholder groups to work through challenge questions and corresponding solutions to identify opportunity areas. The project engaged 1400 stakeholders and provided an opportunity for stakeholders, with low levels of trust, to gather around a table to discuss the future of sea bass.
Three Ethnographers; Alex Mathers, Pina Sadar and Solene Heinzl
Five Designers; Eliza Collin, Kate Langham, Matteo Menapace, Sanjan Sabherwal and myself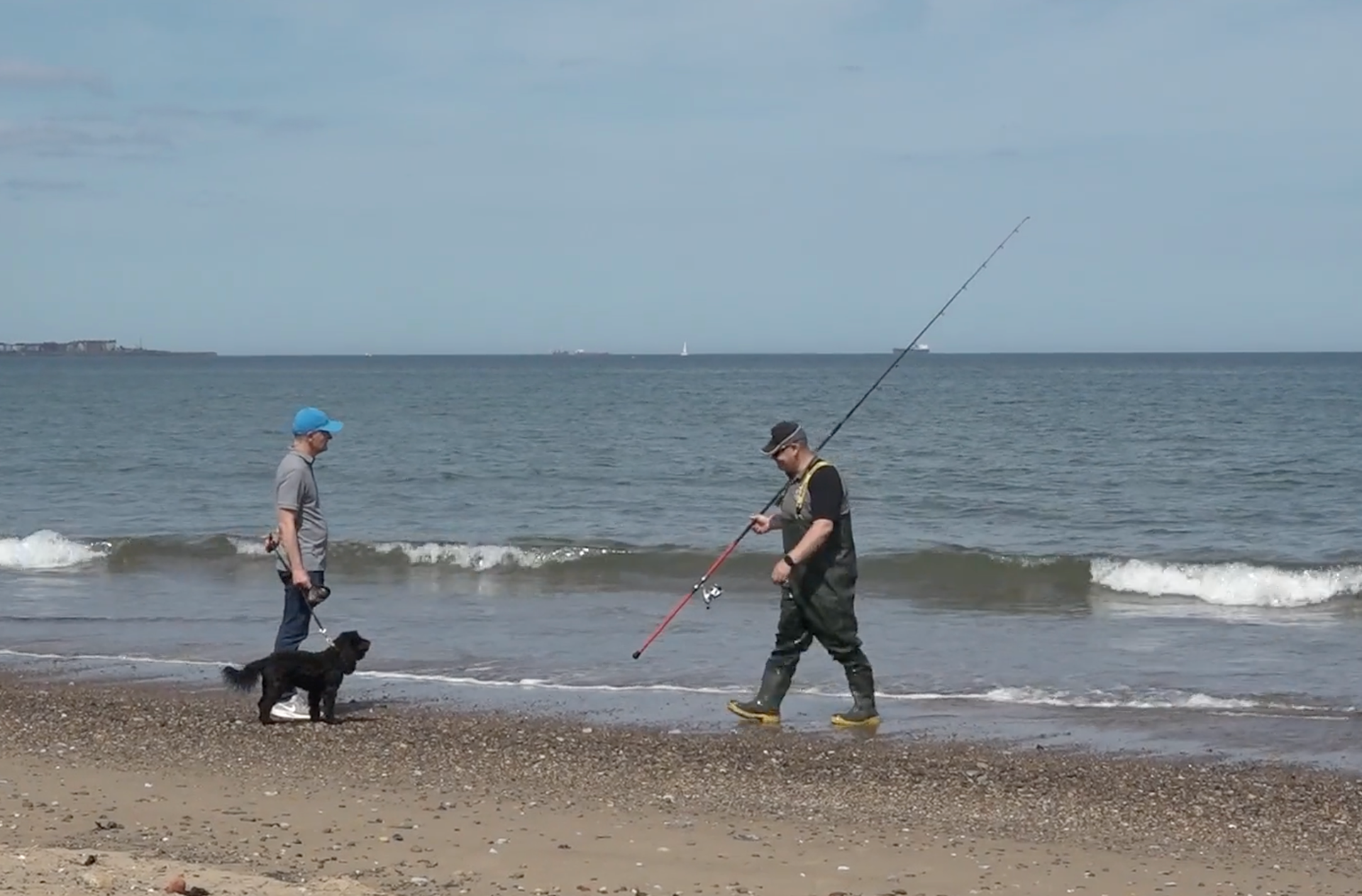 The Department of Environment, Food and Rural Affairs (Defra) and The Welsh Government commissioned Policy Lab to engage with bass stakeholders to understand the impact of the current bass fisheries management plan and co-design the new plan.
Part of the challenge was navigating the conflict between stakeholders and ensuring all groups felt their views were represented fairly.
Developed using the double diamond approach, a series of engagements that included lived experience research, a collective intelligence debate, co-design workshops, and a co-refine survey provided the opportunity for stakeholders to share the impact of the current legislation
on their ability to fish for sea bass as well as ideas for the future. These insights were then communicated to the commissioning teams
as recommendations for the new Fisheries Management Plan within four reports and a film
Lived Experience and Collective Intelligence
The Policy Lab team conducted in-depth social research to illuminate the perspectives and experiences of fishers, representatives of enforcement agencies, bass sellers and other sea bass stakeholders. To summarise the interviews and themes which arose, I was responsible for editing a film.
Policy Lab also launched a nationwide collective intelligence debate with stakeholders. Participants were shown 38 "seed statements", wrote to kick start the debate and were given the option to agree, disagree or pass and add new statements of their own. Including the 38 "seed statements", there were a total of 711 statements in the debate. This generated almost 140,000 votes in total.
These statements directly formed the content of the game.
​​​​​​​
"...shows genuine passion and is a real exercise in listening."
A representative from Defra's response to the Sea Bass film​​​​​​​.
The purpose of the serious gaming workshops was to provide an opportunity for stakeholders to meaningfully engage in productive discussion to shape the Fisheries Management Plan through stakeholder-led insights.
To do so, we invited recreational fishers, commercial fishers, charter boat skipper/s, buyers/sellers as well as representatives from MMO, IFCA, eNGOs and scientists to ensure there was the opportunity to collectively build knowledge around the fishery and allow people to interact with the decision making as equally as possible. Additionally, creating a space for these individuals to interact encouraged relationship building which was essential due to the prior conflict.
Participants using their tokens to vote on their preferred solution.
Participatory Methods; Tactile Tokens
Approaching the design of the game, I focused on how a participant would experience the materials. The physicality of the

process

(handling the challenge and solution cards as well as casting votes) aimed to disarm participants and encourage them to engage with the process and other participants.
To begin the game, participants were asked to customise their tokens. This step was designed to transition participants from negative body language to using their hands and opening up to the group.
The challenge and solution cards for the question 'How should sea 
bass regulations be enforced?'
A challenge with ensuring all stakeholders could appropriately 
interact with the activity was the complexity of the terms used 
within legislation. Therefore the facilitation was integral to assuring 
accessibility of the game. The facilitator would read the challenge 
and solution cards multiple times and assign the solution with the 
shell, crab, seaweed or prawn so participants could engage with the 
vote. Where appropriate, stakeholders also invited family members 
or friends to aid the process. Representatives from Defra were also 
on hand to explain.
Solution cards were identified through icons, for example, 
shell, crab, seaweed and prawn. These were purposefully 
recognisable for fishers so they could quickly and easily share their 
preferred solution. I believe these icons avoid biases e.g. we initially 
experimented with numbering the cards although this could have 
implied that solution 1 was the best and 4 the worst.
To facilitate the game, we used challenge and 
solution cards as well as participant mats to 
encourage prioritisation of cards. Tokens were 
also used for voting and a record poster, which 
was updated live, highlighted areas of consensus. 
Following the workshops, the record poster was 
integral in analysing the group's preferences 
however each individual's preferences were 
also recorded.
Prototyping and Iterating
We invited representatives from Defra and Cefas 
to join us in testing. The game was designed to 
host representatives from each stakeholder group 
and so the Policy Lab team, Defra and Cefas 

role played

 
these perspectives to consider how the 
groups dynamic could impact its effectiveness.
The session informed how we decided to deliver the 
challenges to improve engagement with the process as well as 
build a sense of trust among participants. The order of challenge 
questions was reorganised to start with problems which were less 
controversial and slowly build the difficulty. 
Additionally, we also incorporated 10 minutes worth of 
discussion time per question and provided participants with 
three voting tokens. The discussion period often influenced how 
participants proceeded. Sometimes, participants continued to 
cast all three votes on their most preferred option however, more 
frequently, participants split their vote between two or three 
solutions, considering what would be holistically beneficial. Multiple 
tokens allowed participants to let us know when a mixture of 
solutions could be implemented or to demonstrate a preferred 
long-term solution with the option to include a short-term option 
for now. This allowed us to gain a richer understanding of how 
people responded to challenges.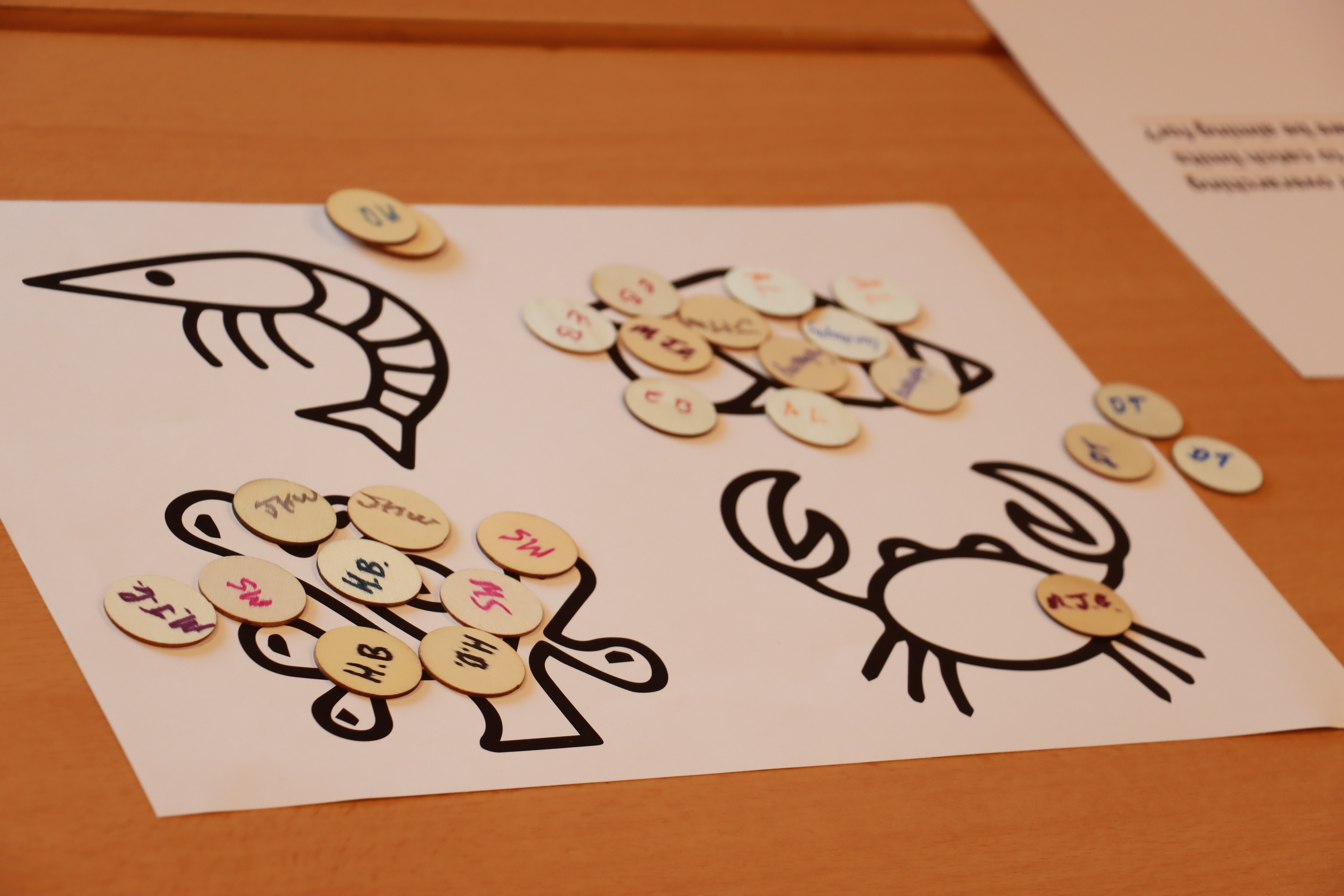 Images of how participants voted- the bottom image shows 
participants choosing to abstain from voting by placing their tokens 
in the centre.
The discussions were focused around 12 specific 
challenge questions, which were identified as 
top priority areas of concern by stakeholders. 
Participants were presented with 2-4 solutions to 
address these challenges and were invited to vote 
on their favourite solutions. They also engaged 
in a discussion, after which they had a chance to 
move their votes.
"Overall it was a well run 
session and conducted 
in an orderly manner 
with participants 
respecting each others' 
points of view"
The data gained from the co-design sessions 
helped to identify areas of agreement and 
disagreement on the key challenge areas. 
However, a lot of the challenges were complex and 
couldn't be solved with one single solution. 
We presented the outcomes of the co-design to a range of 
internal stakeholders, including Defra and Cefas. The experts' 
insights helped us understand which solutions would be feasible 
and implementable in the short-term and which required a more 
long-term approach.