At the beginning of June, I had the opportunity to speak with Charley Pothecary, a fellow Kingston University alumni and freelance design researcher at Inclusively. Our paths first crossed during my final year at university, when Charley was a guest lecturer and offered her guidance through tutorials to the aspiring social designers on the graphic design undergraduate degree. Now, after learning more about service design and its impact, I eagerly reached out to Charley for a one-on-one chat.
What is a service designer? 
In 2016 Charley graduated from Kingston University with a First-Class degree in Graphic Design. 
Charley has always focused on creating positive social impact through design but throughout her degree she honed in on design for inclusivity and accessibility as a means to make the world a more compassionate place. In her final year, Charley's dissertation and major project focused on collaborating with a good friend and product designer Jess Ryan-Ndegwa, who has cerebral palsy and is the Founder of Design for Disability. One evening while visiting Charley for dinner, it became clear to them both how the cheap and very thin handled knives Charley had were difficult for Jess to grip. Inspired by the work of OXO, Charley and Jess began their exploration into the theory of inclusive design and pushed boundaries by designing utensils that were perfectly ergonomic. This insightful collaboration resulted in the design and 3D printing of a grip which made wielding a hammer easier for Jess while in the product design studio.
Jess showcasing the ergonomic tool designed for Charley's dissertation and final major project in collaboration with Jess Nwedga and Tom Bennett
"How am I improving people's lives?"
Since graduating, Charley has amassed several years of experience in the industry, both in service design and user-research roles. Along the way, Charley has learnt the importance of effectively communicating her practice. The term "service designer" often carries a broad range of interpretations across organisations and individuals (and let's be honest, I am still wrapping my head around it!). Therefore, engaging in conversations about her unique flavour of service design has become an integral part of her journey.
More recently, Charley navigates the roles of service designer, user-researcher and design researcher, adapting to the needs of each project. Along this journey, she considered the title "Inclusive Service Designer" but has always felt that it had an inherent paradox, "good design by definition should be inclusive."
Over the years, Charley has observed the demand for user-research expertise rising, particularly in the third sector. Design research is gradually finding its place, defining its purpose, and forging new paths. 
Many service designers are born from other disciplines, as in Charley's case, and are shaped by hands-on experience. She admits that imposter syndrome often lurks in the shadows. In this evolving field, where qualifications don't necessarily define one's ability and service design itself remains a relatively new discipline, it feels as though practitioners are collectively sculpting its identity. Charley has found confidence in the tangible evidence of her skills and expertise, as she continues to build a base of clients.
"Good design by definition should be inclusive."
Inclusivity and accessibility is the backbone of good design
Inclusivity and accessibility is the core of Charley's practice and is driven by a deeply empathetic approach that influences her life. Drawing from personal experiences, she admits, "I find myself easily frustrated with services" and acknowledges how profoundly the design of physical spaces can affect her. Recognising that her frustrations serve as a window into the barriers others may encounter, Charley emphasises that we should be aware of the limitations of our services and products and always strive to make them as inclusive as possible by involving a range of users, throughout the design process. Accessibility is not sufficient; services should strive to be inclusive, enabling everyone to fully embrace and enjoy a service experience.
 In her blog Design for People at the Worst and Best moments of their lives, Charley explains, "Suppose you strive to make the service experience as easy and seamless as possible for those navigating a crisis, creating a clear journey so they understand what they need to do, and give them a sense of control. In that case, you will have made a better service for everyone." In context, this could mean that by designing for someone with one arm, you have also designed for someone holding a child or a railing on a bus, all attempting to fill out a form on their phone. Inclusive design benefits everyone as we all experience temporary or situational impairments and moments of vulnerability throughout our lives.
Fortunately, inclusive design and a focus on accessibility is gaining awareness but this has changed a lot over the last few years, "four years ago I could get the name [Inclusively] for the website! I don't think I would be able to get that domain now."
Over the past four years, Charley has dedicated her time to freelancing at her own company, Inclusively. She largely collaborates with design agencies, charities and also with government departments, including Policy Lab, where I recently completed an internship. As a freelancer, she finds herself better positioned to find and work on a large mix of projects that will create inclusive and accessible impact. Freelancing also allows Charley the freedom and flexibility to prioritise her well-being and personal life when needed. 
Reflecting on her freelance journey, Charley shares that she has enjoyed freelancing and learnt a lot over the last few years. The first year was non-stop with lots of exciting projects. The second year encouraged her to evaluate her progress and settle into a more comfortable work-life balance. And finally, by her third year, Charley has achieved a comfortable work-life balance and is continuing to work on projects that she loves. Charley has had the opportunity to make a difference in areas she is truly passionate about, bringing her aspirations to life. She has contributed to enhancing physical hospital environments and maternity wards and worked alongside individuals with lived experience of homelessness to improve healthcare services. Additionally, Charley has extended her expertise to support Imperial College London in co-designing inclusive service touch-points that aim to increase attendance for breast cancer screening.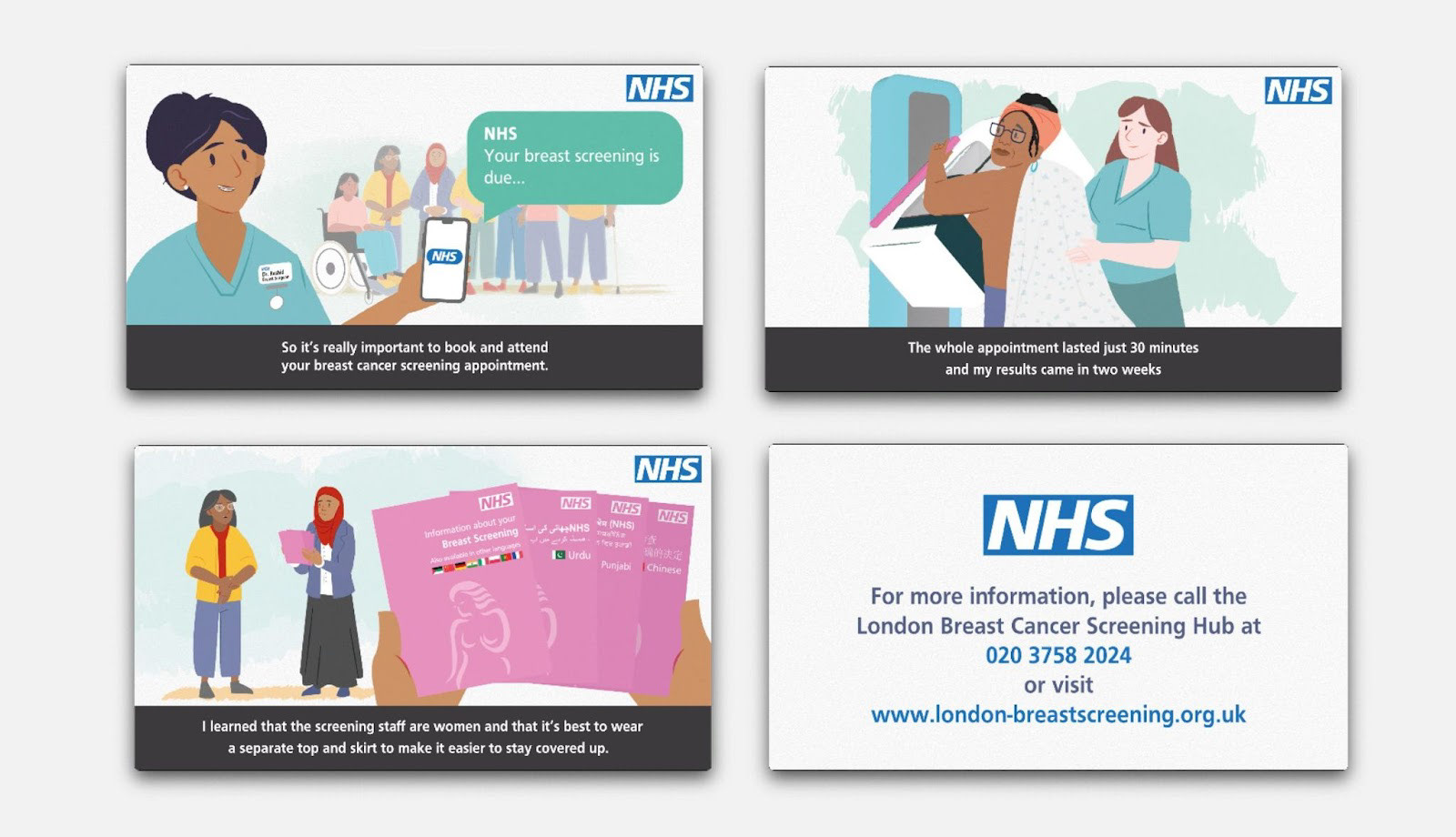 A still from the Breast Screening animation 
Also - Service Lab London, (where Charley is a community director and co-organiser), is a fantastic resource for anyone wanting to learn more about service design. Actively participating in the Service Lab London community was how Charley attained her first role as a service designer, by meeting the great Emma Parnell and Sarah Drummond from Snook! You can see past and upcoming events from Service Lab on meetup here.